It's important for any space within a school, college or university to be as inspiring for the
students as it is for the staff. It also needs to offer as much practicality as it does panache,
incorporating everything from desks with USB power ports to enough natural light to keep
productivity rife.
Eco-friendly trends in educational design
A question we're asked often by schools and colleges is: "How can we make our space eco-friendlier?"
When it comes to eco-credentials, there are a number of factors we can consider for both design and fit-out, the main areas being:
1. Materials and furniture
So you can start putting your best foot forward with regard to single-use plastics and other over-produced materials that are putting a strain on the environment, we can recommend furniture designers and suppliers who use reclaimed/recycled or natural materials.
2. Eco lighting, air conditioning and heating
As well as incorporating energy efficient lighting, which powers down when people leave the room, we can advise on the best systems for the environment (as well as your pocket) and incorporate them into the final design of your educational space. This, combined with solar panels or other green-energy options for your exterior, can pay dividends.
3. Green space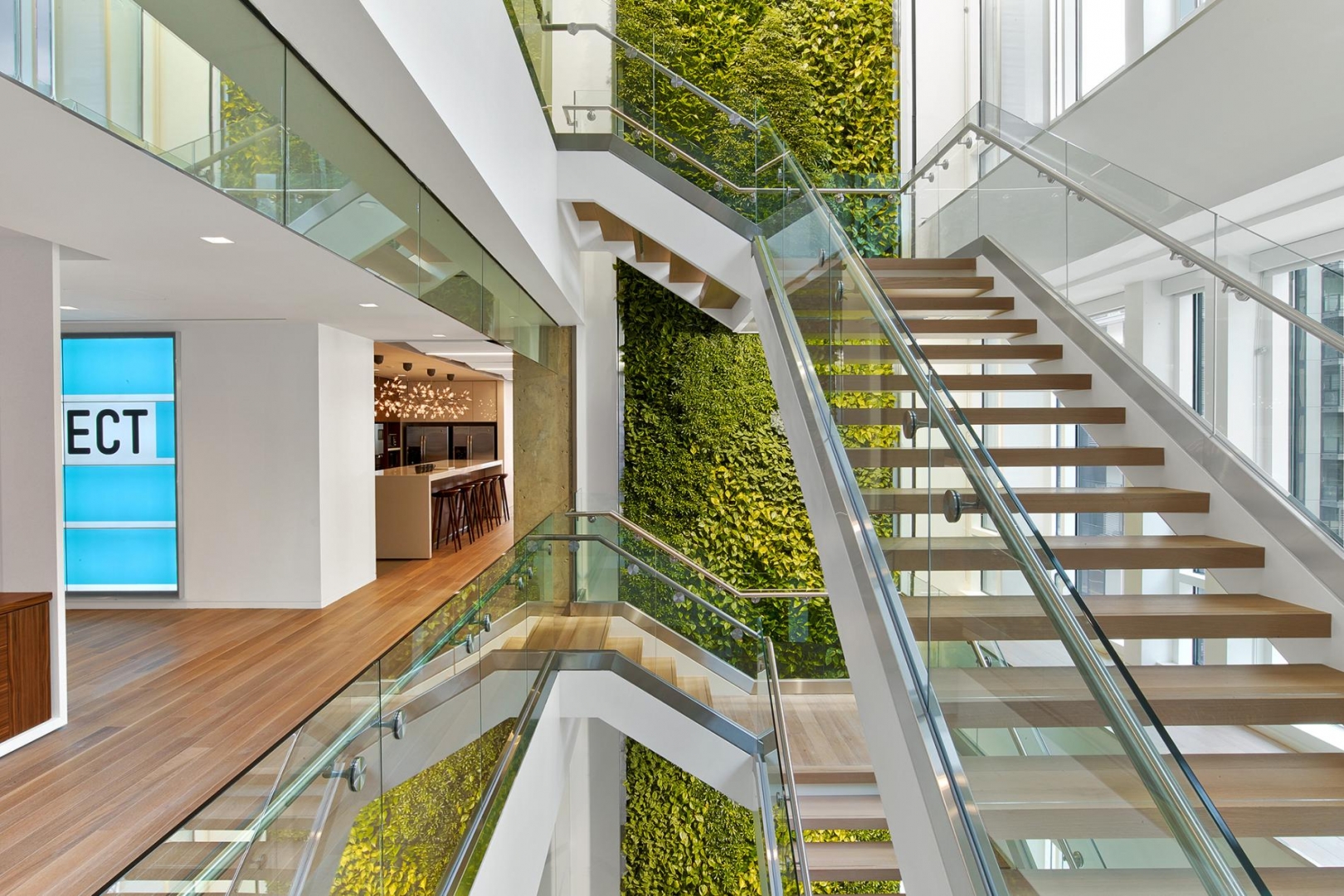 Think colour green too in order to crack an eco-fit out. We'll add plants to your interior design that will not only add a sense of serenity to the space, and promote learning, but will also improve air quality.
4. VOC-free
We can use paint and furnishings containing no (or very low) Volatile Organic Compounds (VOC). These can be harmful to the health of students and staff – they're not good for the planet either.
5. Go paperless
All of our education interior design plans can be produced electronically and we can communicate with you face-to-face, showing you the designs on-screen, or send you documents for sign-off via email. This will cut down on excess paper use for both you and us!
Staffroom style
We're aware that before or after a long day teaching, staff want somewhere a little bit zen
where they can chill out and prepare or restore.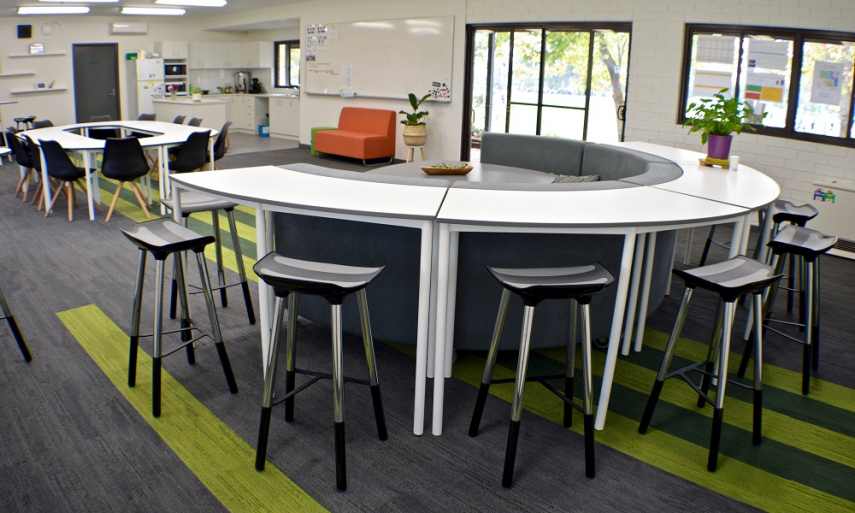 This is something we consider carefully when designing interiors for academic institutions. The following elements will help to increase morale and make staff feel at ease:
1. Drinks making station
Whether they're morning coffee people or afternoon tea drinkers, a place where they can make drinks for a quick boost and hydration fix is a must for all education interior designs.
2. Communal seating
Time in the staffroom is a good opportunity for teachers and tutors to seek moral-support from their colleagues and brainstorm ideas for lesson plans. But, it's also time away from the classroom or lecture theatre when they might want to catch up on marking.
You're going to need modular seating that's comfortable and supportive, but can be moved together to accommodate group chats and moved apart when individuals need a bit of space or are holding private meetings or an interview.
3. Calming colours
The colour choice for the staffroom is just as important as it is for the learning spaces. Colours that instil tranquillity, such as blues and greens, are popular choices. But, if you have a particular colour palette in mind, our interior designers can offer advice on what will work visually and psychologically.
4. Warm welcome
While a school, college or university reception area can be a busy hub of activity – with parents, teachers and students in and out at different times of the day – it's important to create a warm and welcoming space for visitors that presents an excellent first impression of your institution.
5. Light and airy
The last thing you want is for your reception area to feel claustrophobic. One way we can ensure this is not the case, is to stick with a simple, unfussy interior design that includes furniture (like in the staffroom) that's multifunctional and can be moved around. Bespoke furniture is a good option here so we can make the most of all the space available.
6. Branding and colours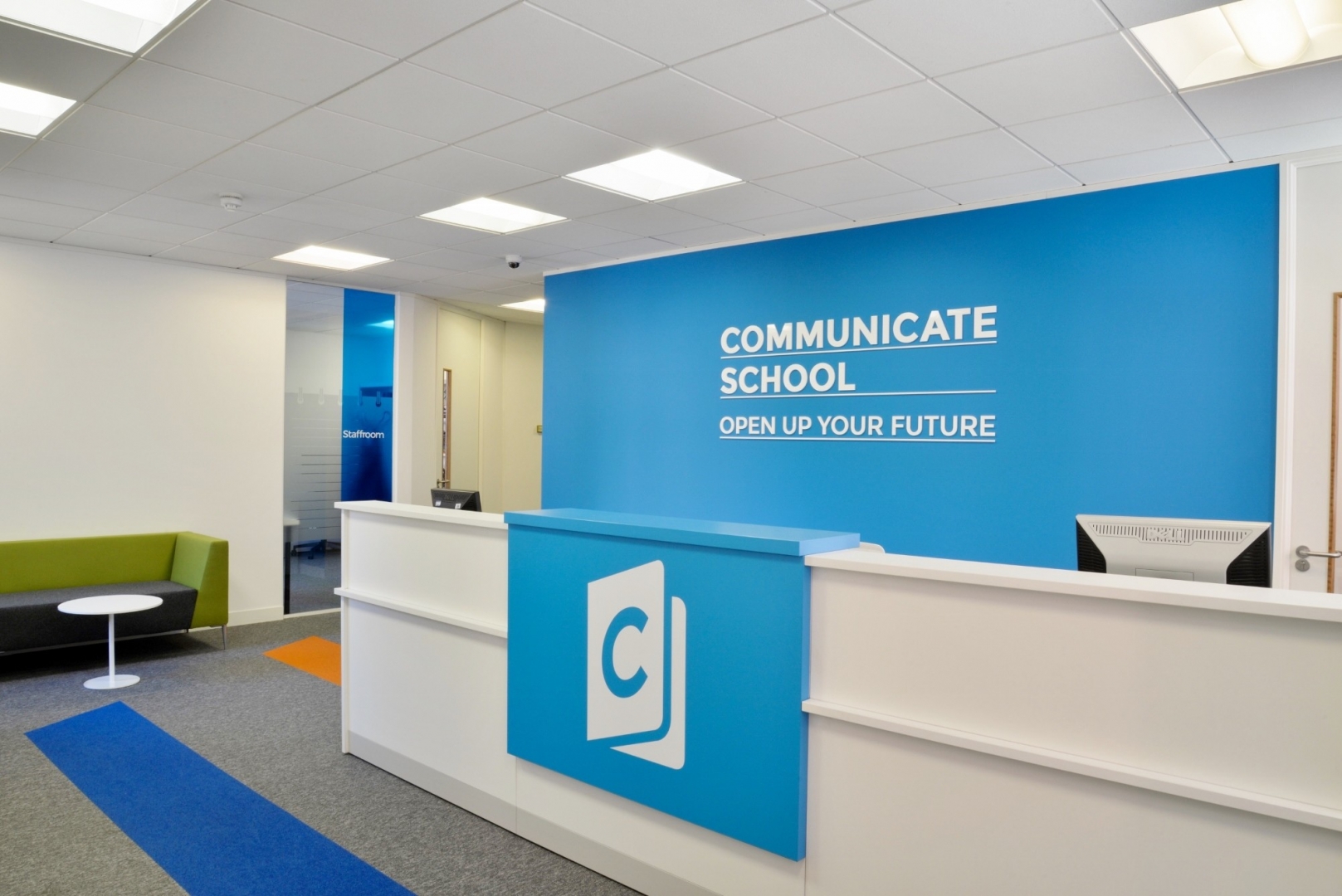 When people arrive at your school or college they want to know they've arrived. This means that you have to make an excellent first impression (so keeping your space looking neat and freshly cared for) but also think to incorporate your institution's brand colours so that the feeling throughout the building is cohesive.
Fancy going green to improve the health of your teachers, students and the planet? Need a
stylish staffroom to keep the team sweet? Ready to rock a warm and welcoming reception
that visitors remember for all the right reasons?
Contact Trevor Blake for your educational interior design and fit out needs today.