A good office fit out brief will cover many areas such as the company objectives, staff numbers, style of working, company ethos and branding, functional requirements and of course, budget.
In this article, we highlight six broader considerations when constructing your brief and having discussions with your office fit out partner.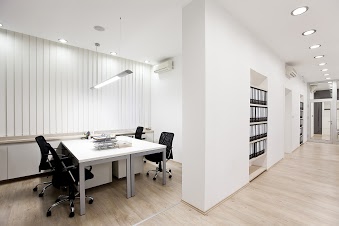 Office Fit Out - 6 key considerations
1. Part of a network?
Is the office a stand-alone office or is it a regional office? This will have a huge bearing on the fit out of the new office as if its regional then the design must replicate other regional offices, creating a consistent look throughout and reflecting the brand identity.
2. Contemporary and functional or luxurious?
A business in a creative field such as a creative design agency can go all out in creating an office design which is light-hearted, quirky and fun whereas a big bank is better suited to something more functional and less exuberant.
3. Collaborative or separate working?
There is a move towards collaborative working to support communication and openness in many new offices designs but this isn't suitable for every type of business. Talk to your office fit out company about your business and way of working and avoid keeping up with latest trends in your office fit out if its not suitable for you.
4. Don't be restricted by a small space
Through the use of partitioning and sliding glass doors, rooms within rooms can be created so you can have everything you need within one space. So for example, a conference sized boardroom can be used as four individual meeting rooms or one large room. Check out how we achieved this for our client, Eurocentre.
5. How visual is your brand?
There are the obvious areas for adding elements of the branding in your office fit out, such as in the reception area, through signage and choice of colour schemes but there are many other ways throughout the office design to bring the brand to life too. It depends on the company ethos and attitude towards reinforcing brand identity. Partitioning, furniture fabrics and colours and manifestations each present opportunities for reflecting company branding.
6. How high on your list is staff retention?
If its high on your list of priorities to attract and retain new and retain existing staff, then its essential to create a modern and bright working environment where staff enjoyment and comfort are high priority.
Here at Trevor Blake, our office fit out team specialises in the fit out of commercial workplaces and educational buildings. We excel at creating exceptional workspaces and help clients to consider each element of brief to ensure the end result is a highly functional workplace for their current and future needs.
Contact us on 01293 775509 to find out more.