Lockdown is eased and there are increasing signs that things are returning to 'normal'.
However, with the risk of infection from coronavirus continuing, offices are being reconfigured to enable workers to return to the workplace safely, in line with social distancing requirements.
The long-favoured open plan office design has suddenly become more risky than forward-thinking and now that barriers have become synonymous with protection from COVID 19 transmission are we going to see a resurgence of the cubicle-style office – or are there other ways to achieve safety in the workplace.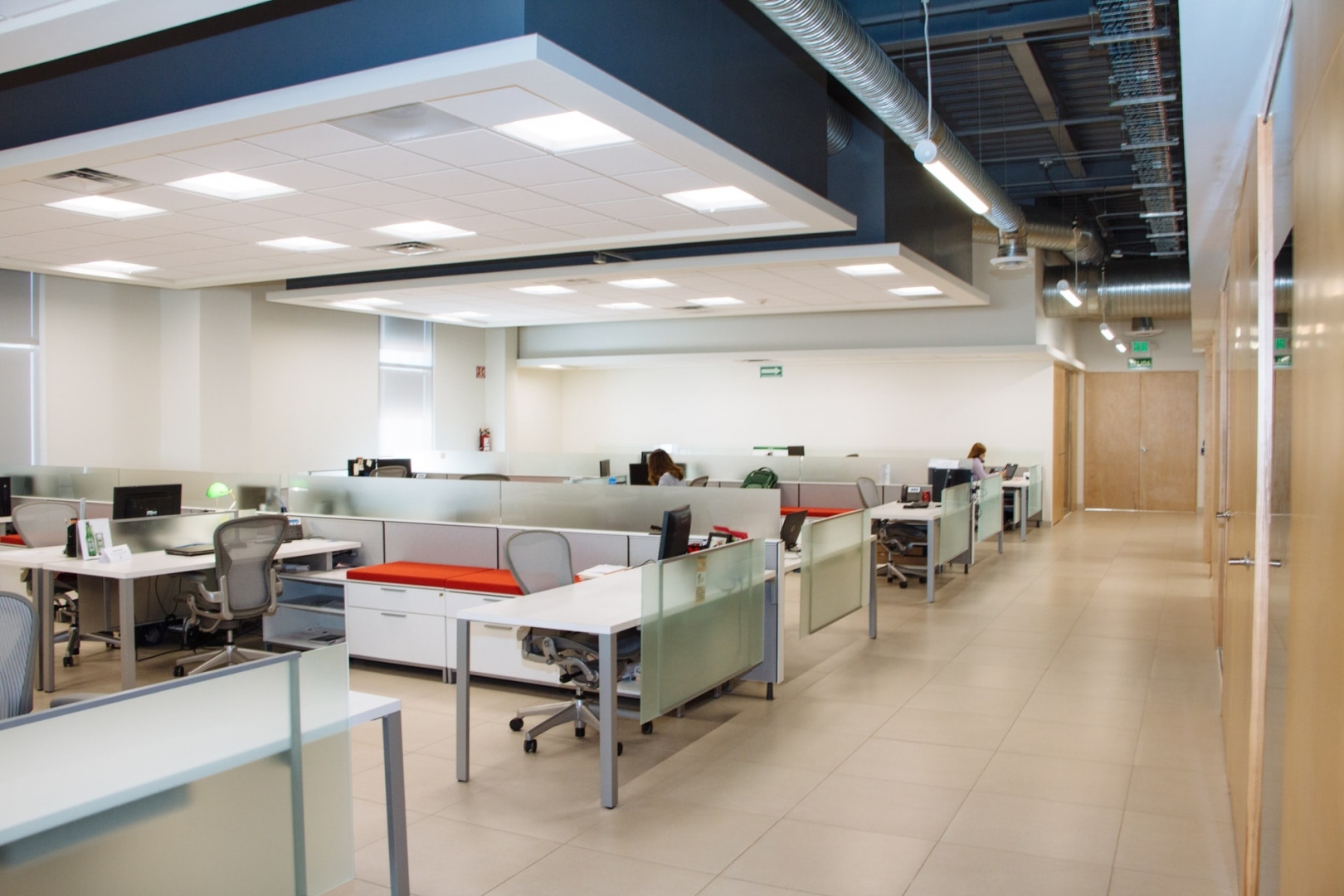 The requirements for social distancing in offices
The current advice for businesses is to ensure that employees (if they cannot work from home) are able to follow Public Health England guidelines on social distancing and hygiene (washing their hands with soap and water often for at least 20 seconds) and follow the guidance on working safely during the coronavirus outbreak.
The Public Health England guidelines are broken down by each type of setting i.e schools, offices, factories, labs, homes etc. For offices, the guidance is:
That all employers carry out a COVID-19 risk assessment and share this with their workforce.
In every workplace, increasing the frequency of handwashing and surface cleaning.
Social distancing of 2m / 6ft is followed.
Mitigating actions include:
Using screens or barriers to separate people from each other
Using back-to-back or side-to-side working (rather than face-to-face) whenever possible
Reducing the number of people each person has contact with by using 'fixed teams or partnering' (so each person works with only a few others)
Source: www.Gov.uk
How to create a socially distanced office
In April, the British Council of Offices released a briefing note on office design and operation after Covid-19. Re-produced with thanks to Facilities Management Journal (FMJ), their suggestions are:
The introduction of screens to protect receptionists from potentially virus carrying visitors
The replacement of gendered communal toilets with pod-based 'superloos' that feature touchless doors, taps and soap dispensers
An increase in bike storage, with workers likely to ditch public transport's commuter crowds in favour of cycling
Limits on the number of people that can occupy a space, use a meeting room or share a lift at any one time
An end to communal cutlery, coffee pots and water bottles
The adoption of ventilation and humidification systems which create environments that make transmission tough for viruses
Some of these measures, such as the adoption of touch-free doors, do require an investment. However, with simple and cost-effective measures, it's entirely possible to have an uncomplicated and safe, working environment. Many organisations are using signage and graphics which is the cheapest approach with least intervention.
Coloured carpets or floor mats
When thinking about creating 2m / 6ft markers in offices, images of sticky yellow and black tape may spring to mind, but there are much nicer, aesthetically pleasing ways to create signposting in an office without it feeling something like a crime scene.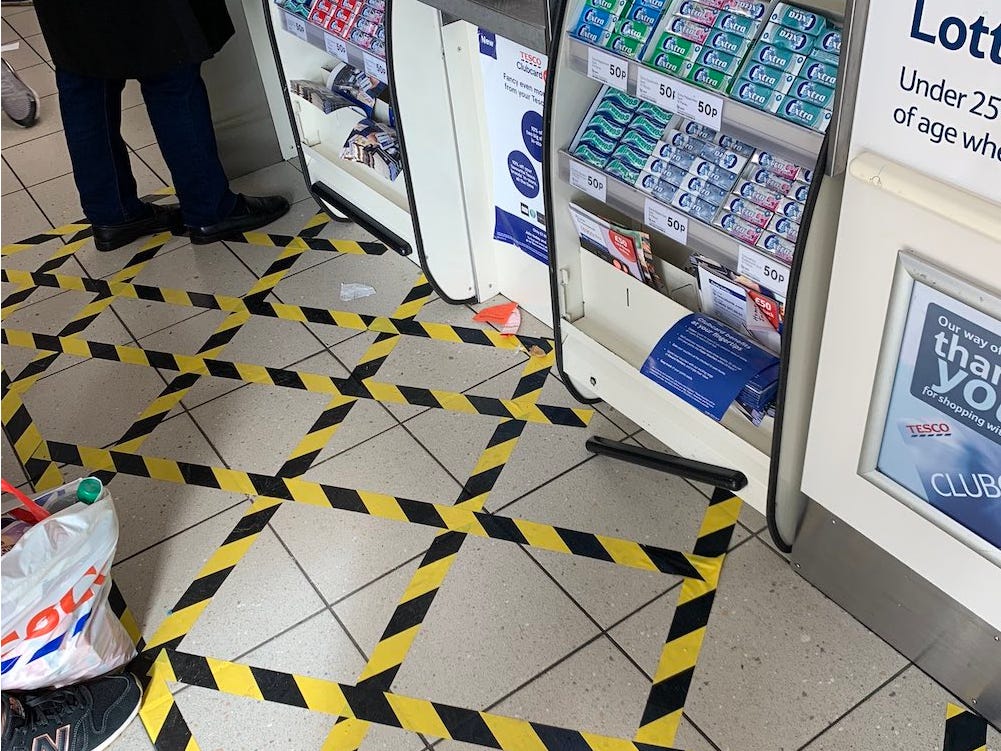 Tesco taped off the area around the checkout
Coloured carpets or floor mats can be used to show the 2m area around a desk. They're a cost effective and durable way to demonstrate that you take health and safety seriously.
Unlike stickers, the mats can be moved around giving you the versatility to quickly change the layout of your premises.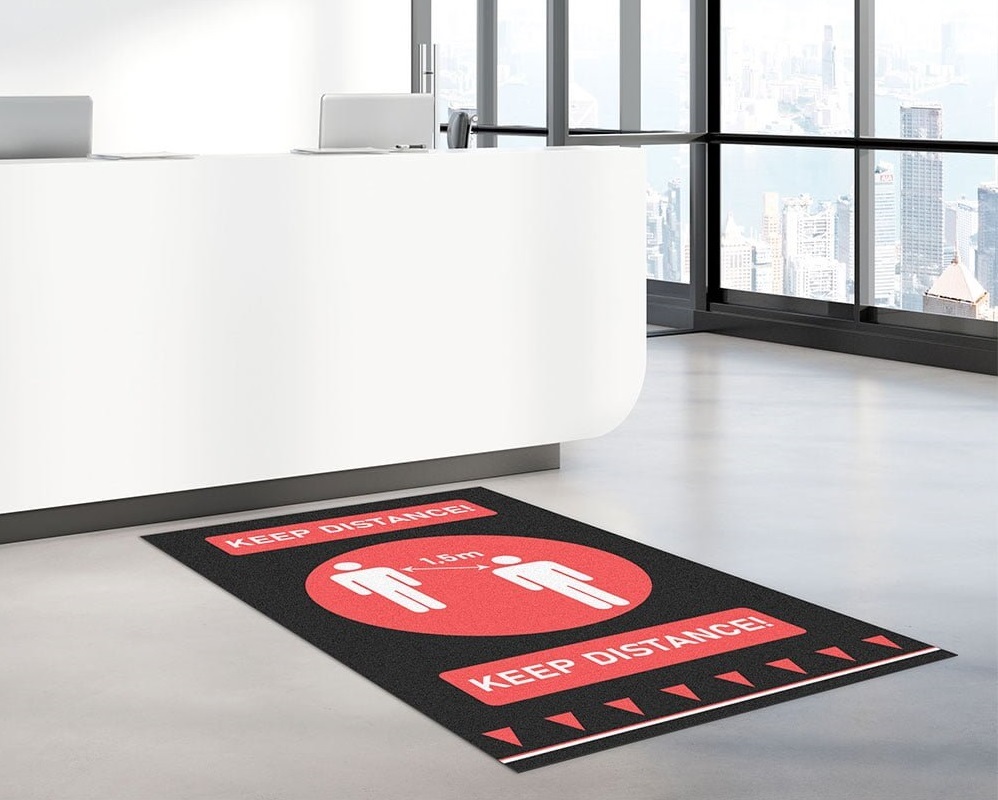 Desk screens
The addition of acrylic protective screens, whether Perspex or Plexiglass is the most popular solution right now for most businesses. Screens can be fitted on top of existing low screens or whole screens can be used where no existing screen is in place on the desk or counter.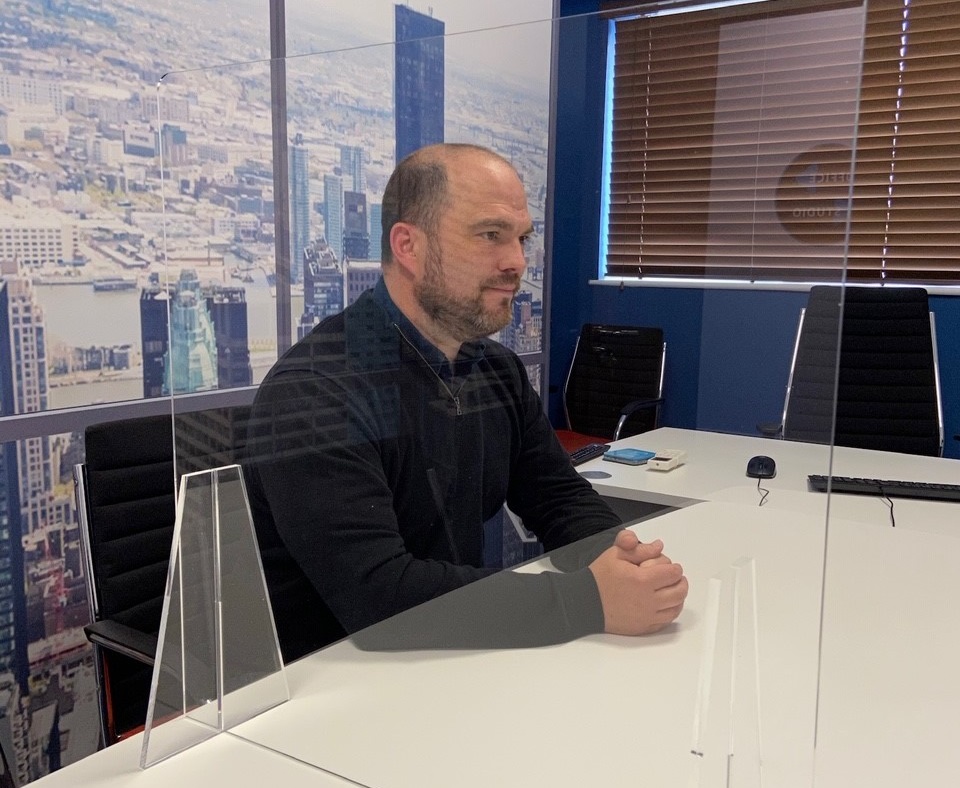 Screens we installed at Civial Aviation Authority
There may be longer lead times on availability, contact us to discuss your requirements and we'll do our best to accommodate you.
Longer term changes
Whilst working from home is practical and productive for many, for others, it has meant a loss of structure and routine as people struggle to balance working from home with childcare. A study shows how these physical losses are having a knock-on effect in the form of emotional 'losses," such as a loss of self-worth, loss of motivation and a loss of meaning in daily life."
Remote working on the scale of what it's been recently is not suitable as a long-term solution and gradually, more and more people will return to the workplace.
Office density is perhaps the biggest challenge for businesses returning to work. As more people return to the workplace, this will require a longer term solution in office design and layout as over the years, the open-plan office has become denser.
According to the British Council of Offices (BCO), the average space per workstation in the UK has dropped from 11.8 square metres in 2008 to 9.6 square metres in 2018, meaning employee proximity has increased.
Many experts and leading architects are calling for alterations in everything from building services to toilets and kitchens and, potentially, the end of hot-desking.
At Trevor Blake, we cater for all your short and long-term office design requirements with our coronavirus social distancing office solutions.
If you need to make your office safe for the return of your staff, give us a call on 01293 775 509 or email us as info@trevorblake.co.uk.