As of the 4th July, social distancing requirements have been reduced from 2 metres to 1 metre plus when it is not possible to stay 2 metres apart.
The 1m plus approach requires that extra precautions are taken in the form of face masks and protective screens.
However, the government's scientific advisers maintain that 2m social distancing should be observed whenever possible as a 1m distance has between two and 10 times the risk.
Frequently asked questions
How to facilitate social distancing in communal areas?
Social distancing is often more challenging in communal areas such as entrances and exits, breakout areas and kitchens. We advise to display signage in all communal areas reminding everyone of the social distancing requirements.

Additionally, you can also stagger the start and finish times and break times and introduce one-way traffic flows around the communal areas.

Communal & lift exmaples image source: Working safely during COVID-19 in offices and contact centres
How to lay out office desks for social distancing?
Arrange your desks so that people are 2metres apart, or 1metre with desk screens. You can use floor tape, mats or new flooring to remind people of the distancing requirement.
It's advisable that office desks are arranged with people sitting side by side or back to back, rather than face to face – which is judged to carry more risk than being side by side.
Avoid hot-desking and maintain working from home wherever possible.
Weston Williamson + Partners outlined its plans for a social distancing office, with this visualisation for desk layouts: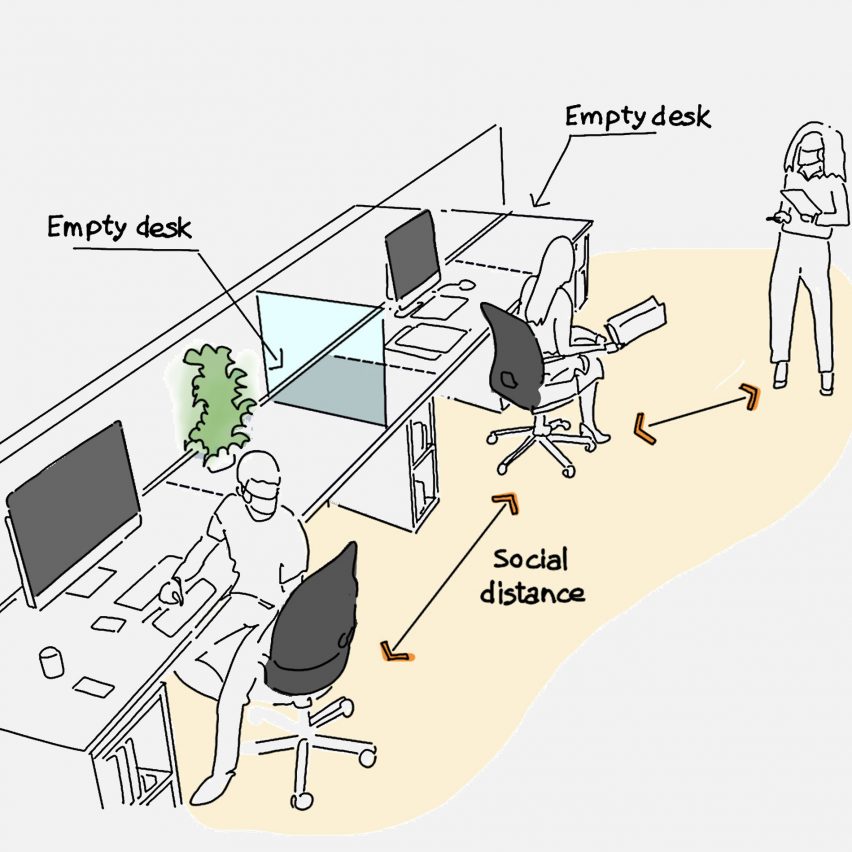 Are office desk screens necessary?
Screens are a very popular solution to those in an office environment, even where desks are spaced 2m apart, they act as an additional safety measure and help staff to feel secure at work.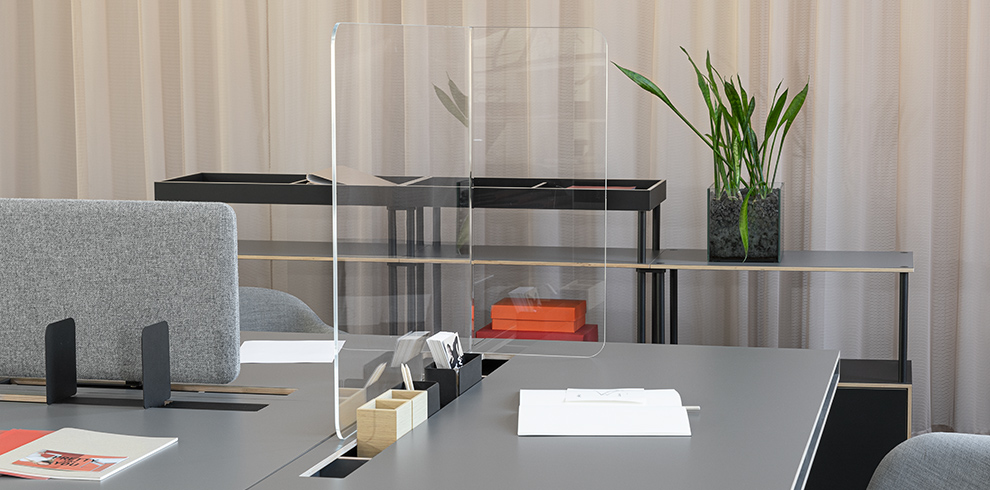 Although available in various colours, most businesses are opting for transparent perspex screens to enable colleagues to see and converse with each other.
At Trevor Blake, we cater for all your short and long-term office design requirements with our social distancing office solutions.
If you need to make your COVID-19 safe, give us a call on 01293 775 509 or email us as info@trevorblake.co.uk.