Big changes are happening in offices all across the UK and it's called the Agile Workplace.
Do you have a happy and productive working environment?
It is widely recognised that the most productive employees are those that are happy and comfortable. They enjoy their work, feel comfortable in their workplace and are satisfied by getting the job done.
There are many factors that can affect a person or team's morale and level of commitment. The office may be too dark or light too glaring, the desks the wrong shape, and chairs uncomfortable. These are many single issues that when combined lead to an unhappy and apathetic workforce.
Businesses who want to grow their businesses need to find ways to remove the negatives from their workplace in order to see an increase in business productivity.
This is where the agile workplace comes in. It's revolutionising offices all over the world; bringing a combined sense of individualism and collaboration to a huge range of industries.
The key message about agile working is the idea that workers are given free reign of the entire space and allowed to work where they feel most comfortable, rather than being restricted to their desk.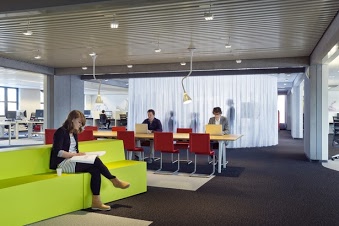 This could be a quiet pod, a collaborative bench space, an armchair or a traditional desk.
Many companies make the mistake of trying to maximise the headcount that they can squeeze into one space. They think it will cut costs and boost collaboration; when in reality, doing this causes workers to feel uncomfortable and demotivated.
The layout of a workspace can be one of biggest causes of unproductivity in a business.
Removing boundaries and improving personal space is something that all companies should be considering. There are major benefits not just to the employees, but also ones of great significance to employers as well.
A happier workforce means a more productive workforce. A more productive workforce means more revenue and more revenue means more reward for our employees. Now which company wouldnt sign up for that?
Reduced absenteeism, increased productivity, reduced operational costs and reduced real estate costs are just some of the benefits of agile working.
Changing demographics
For the first time in history, we're seeing five generations in the workplace at the same time, each bringing a unique set of working requirements and different preferences.
Millenials currently comprise 35% of the UK workforce and are set to represent an astounding 50% of the global workforce by 2020.
How do you make your office work for the "baby boomers" to the "millennials"?
Recognising that one size doesn't fit all is critical, and the time to act is now.
In order to accommodate for all of these characteristics, in-depth analysis of a workforce and office can be very useful.
Trevor Blake provides space planning and workplace consultancy to analyse your current workplace and come up with an agile workplace plan to deliver the most effective and productive way for your office to be organised.
This enables your team to work and communicate more effectively and harmoniously.
Want to make your workplace happier? Get in touch or call us on 01293 775 509.
Additional reading: Free guide to office refurbishment>