The important factor with any fit out for you as an organisation is in defining what type of fit out you need and want, who you'll hire to carry out your commercial business project needs and the desired outcome you want to achieve for your company and the people within it.
Your office layout is not just about how it visually appears but how it feels, the culture it supports and the way it actively encourages people to collaborate which impacts their creativity, wellbeing and productivity.
Start at the Beginning: Know the Definition of an Office Fit Out
For many in the trade this is a term frequently used for commercial and office construction purposes and describes the interior space of a building matching the desired brief of the occupant.
The conditions with which the buildings are held and occupied are called a tenure and it is this which primarily points to the determining factors of which level of fit out is carried out for the tenant by the hired commercial fit out business.

1) Define Your Office Fit Out: Categories & Dilapidations
The fit out project specifications can vary dependent on the category they fall into and the provisions needed within the space, it's lease and purpose. The degree of fit out will largely depend on how the premises are left by the developer or landlord and to what degree of changes are needed based on the tenants needs/usage as a business.
For example, a category A fit out will typically include; building raised floors and suspended ceilings, basic mechanical and electrical services and internal surface finishes. This is usually undertaken in whole or part for the tenant by the developer or landlord.
You then have a category B fit out (usually undertaken and the responsibility of the tenant) which can include features such as; kitchen facilities, carpets, lighting, reception areas, partitioning, finishing & branding, IT and audio equipment and office furniture along with any meeting, conference and breakout rooms.
This terminology is often used after a developer constructs a space or a landlord leases a commercial building with basic shell and core fit outs and then the new occupant takes ownership of instructing a professional and experienced company to complete the final fit out details into a business space that represents them as a brand but also that facilitates the tailored and bespoke working style of their employees.
Quite often a landlord/developer will lease a building to the tenant or occupier whom will then be required to return the building to its original condition prior to any fit out works taking place at the end of their leases term.
This is coined as dilapidation provision works which legally obliges a tenant to restore the commercial office premises as per the agreed contractual lease terms between the occupant and the landlord.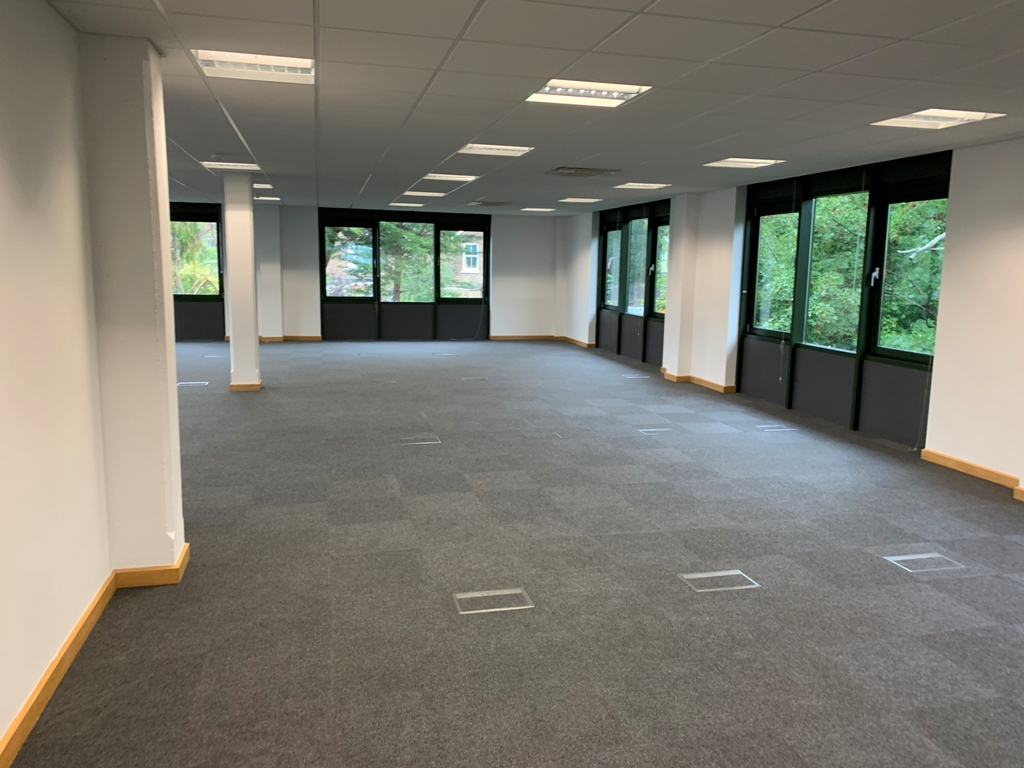 2) Differences: Why a Fit Out is Distinctly Different to an Office refurbishment
An office fit out takes a bare space into a workable and usable space whereas an office refurbishment is taking an existing space and making changes, improvements or adaptions to enhance your working areas, to match your branding, your culture, the way your workforce interacts and to enhance the productivity and wellbeing of those within it.
Often an office fit out concerns a new lease from the building's owner and is perfect for expanding or start-up businesses requiring a space to build the ideal office and work-friendly environment for your company and the working space within it to match your working styles be they, agile, hybrid or flexible models.
3) Advantages: Office Fit Out Benefits
Your office fit out project can work around your timescales, your budget and your requirements to reach optimum and desired standards as agreed within your brief.
This is an opportunity to craft and build a visual impression that is a focal point to your corporate brand identity, the hub of your business and that boosts morale and helps to create a positive workplace culture.
Working with a commercial fit out provider that you can trust, whom understands the demands and legalities of such works and whom can manage your project so you can work on and in your business ensures a smooth and transparent path forwards towards an outcome you and your workforce can be proud of.
Trevor Blake Fit Out are industry experts with over 20 years of experience in office design, refurbishment and fit out specialists working within London, Surrey and the South East. For more of what we do and how we've achieved it for other client's you can visit our range of case studies here or contact us directly on 01293 775509 or via email at info@trevorblake.co.uk.
Helping to assist and guide commercial businesses and educational bodies transform and build their workplaces.